AMC NETWORKS LICENSES EPIC DRAMA "NAUTILUS," A LIVE-ACTION ORIGINAL SERIES, FROM DISNEY ENTERTAINMENT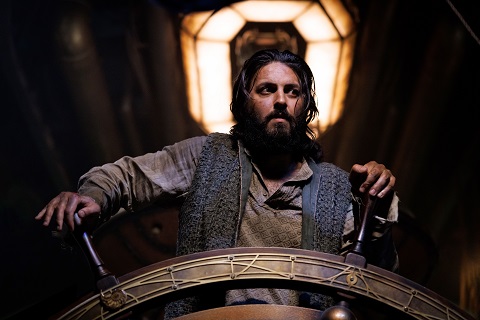 NEW YORK, NY, October 30, 2023 - AMC Networks announced today that it has licensed the U.S. and Canadian linear and streaming rights to Nautilus, a 10-episode live-action series inspired by Jules Verne's beloved Twenty Thousand Leagues Under the Sea, from Disney Entertainment. The series will air on AMC and AMC+ as a special television event in 2024. Nautilus tells the origin story of the iconic Captain Nemo: an Indian Prince robbed of his birthright and family, a prisoner of the East India Mercantile Company and a man bent on revenge against the forces that have taken everything from him.
Nautilus stars Shazad Latif, Georgia Flood, Thierry Fremont and Céline Menville, with guest appearances from Richard E Grant, Anna Torv and Noah Taylor. It's developed and produced by Moonriver TV's Xavier Marchand and Seven Stories' Anand Tucker, is written and executive produced by James Dormer and is executive produced by Johanna Devereaux, Chris Loveall, Colleen Woodcock and Daisy Gilbert. Cameron Welsh serves as producer and Michael Matthews is the lead director of this epic adventure series.
"Nautilus is a big, sweeping drama that is sure to appeal to fans of our Anne Rice Immortal Universe and other buzzy and fan-forward series like Orphan Black: Echoes," said Ben Davis, executive vice president of original programming for AMC Networks and AMC Studios. "We are looking forward to bringing it to AMC+ and AMC as a special television event next year."
Xavier Marchand, CEO, Moonriver, and Anand Tucker, CEO, Seven Stories, commented: "We are so thrilled to present the epic adventures of Captain Nemo and his legendary submarine The Nautilus alongside the other incredible AMC universes. The series will take viewers on a breathtaking journey with Nemo and his crew, battling terrifying creatures and the dark forces of the British Empire."
James Dormer, executive producer and writer, added: "I am hugely excited that the efforts of everyone involved in the making of the show will be seen on such a prestigious network."
Nautilus is distributed by Disney Entertainment and acknowledges the support from the Australian Government's Location Incentive and from the Queensland Government via Screen Queensland's Production Attraction Strategy.
About AMC Networks Inc.
AMC Networks (Nasdaq: AMCX) is a global entertainment company known for its popular and critically acclaimed content. Its brands include targeted streaming services AMC+, Acorn TV, Shudder, Sundance Now, ALLBLK, and the newest addition to its targeted streaming portfolio, the anime-focused HIDIVE streaming service, in addition to AMC, BBC AMERICA (operated through a joint venture with BBC Studios), IFC, SundanceTV, WE tv and IFC Films. AMC Studios, the Company's in-house studio, production and distribution operation, is behind some of the biggest titles and brands known to a global audience, including The Walking Dead, the Anne Rice catalog and the Agatha Christie library. The Company also operates AMC Networks International, its international programming business, and 25/7 Media, its production services business.