MOTORTREND TO PREMIERE ALL-NEW SERIES "CUSTOM CAROLINA" ON NOVEMBER 21
-- Bridging Exceptional Workmanship and Southern Hospitality, Series to Premiere on MotorTrend TV and MotorTrend+ --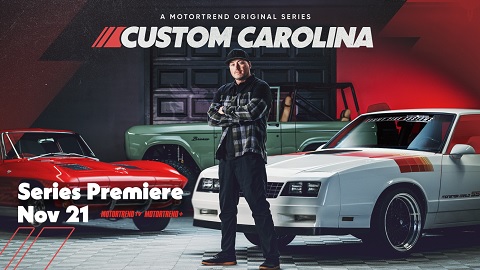 (Los Angeles, CA) - MotorTrend Group, a Warner Bros. Discovery company, today announced an all-new series, CUSTOM CAROLINA, will premiere Tuesday, November 21, 2023, at 10|9c on MotorTrend TV and MotorTrend+. CUSTOM CAROLINA takes viewers on a journey inside Tommy Pike Customs, a renowned automotive customization business located in South Carolina. With enthralling car builds and jaw-dropping transformations, business owner Tommy Pike fulfills clients' automotive dreams; whether it's a high-end, top-dollar project or a more modest endeavor. Working alongside his wife, Stephanie, and a team of skilled artisans, Pike operates from an expansive 30,000 square-foot restoration shop, dedicated to crafting and customizing bespoke masterpieces.
Pike's passion for building cars began in his early teenage years, and he has since become a celebrated craftsman known for his award-winning SEMA builds. For more than two decades, he has worked tirelessly to establish a shop recognized for exceptional workmanship and warm Southern hospitality. Throughout the series, Pike emphasizes the values of hard work, community engagement, and support for the thriving car culture in the Southeast, all from his home base in Greenville, South Carolina. Each episode of CUSTOM CAROLINA showcases Pike's unwavering commitment to his projects, making it a relatable and inspiring journey for the audience who will be wholeheartedly invested in his success.
In Pike's shop there is always a diverse range of vehicles under his care. Whether it's a late-'70s C-10, a classic '37 Dodge pickup, or a brand-new Porsche, they all await the "Tommy Pike Treatment."
Notable vehicles featured in the first season include:
· 1967 C2 Corvette
· 1974 Ford Bronco
· 1986 Chevy Monte Carlo SS
The CUSTOM CAROLINA series will air in one-hour blocks and will feature 12 episodes in its first season. CUSTOM CAROLINA is produced for MotorTrend TV by MotorTrend Studio. Dave Lee is Executive Producer, Mike Suggett is Head of MotorTrend Studio, and Alex Wellen is CEO and President of MotorTrend Group.
MotorTrend is available on Prime Video Channels in the U.S., Amazon FireTV, Apple TV, Roku, Google Chromecast and on the web. MotorTrend+ is available across iPhone, iPad and Android mobile devices.
About MotorTrend Group
MotorTrend Group, a Warner Bros. Discovery company, is the world's largest automotive media group dedicated to introducing, inspiring and intensifying people's passions for the motoring world. Comprised of more than 50 iconic brands including MOTORTREND, HOT ROD, ROADKILL, TOP GEAR AMERICA and more, MotorTrend Group is the ultimate source of entertainment and information for both auto enthusiasts and car shoppers, with a monthly audience of more than 26 million and over 110 million social followers. Featuring world-class automotive entertainment across the #1 television network for automotive fans, digital streaming channels including MotorTrend FAST TV, iconic events, the largest automotive social network, over seven decades of print and digital editorial content and cutting-edge resources for new car shoppers, MotorTrend embodies every corner of car culture. From electric vehicles to timeless classic customs, MotorTrend Group brings the latest motoring trends to fans of all generations.
About Warner Bros. Discovery
Warner Bros. Discovery (NASDAQ: WBD) is a leading global media and entertainment company that creates and distributes the world's most differentiated and complete portfolio of content and brands across television, film and streaming. Available in more than 220 countries and territories and 50 languages, Warner Bros. Discovery inspires, informs and entertains audiences worldwide through its iconic brands and products including: Discovery Channel, discovery+, CNN, DC, Eurosport, HBO, HBO Max, HGTV, Food Network, OWN, Investigation Discovery, TLC, Magnolia Network, TNT, TBS, truTV, Travel Channel, MotorTrend, Animal Planet, Science Channel, Warner Bros. Pictures, Warner Bros. Television, Warner Bros. Games, New Line Cinema, Cartoon Network, Adult Swim, Turner Classic Movies, Discovery en Español, Hogar de HGTV and others. For more information, please visit www.wbd.com.