SHOWTIME(R) ANNOUNCES SERIES FINALE OF "THE CIRCUS: INSIDE THE GREATEST POLITICAL SHOW ON EARTH"
Series Finale of THE CIRCUS Airs Sunday, November 12, 2023 at 7 P.M. ET/PT on SHOWTIME and Streaming on Paramount+ with the Paramount+ with SHOWTIME Plan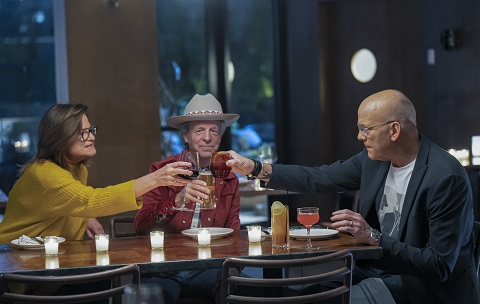 Photo: Ben Hider/Paramount+ with SHOWTIME
NEW YORK - November 7, 2023 - After eight seasons and 130 episodes, the groundbreaking, four-time Emmy(R) nominated political docuseries THE CIRCUS: INSIDE THE GREATEST POLITICAL SHOW ON EARTH - hosted by John Heilemann, Mark McKinnon, and Jennifer Palmieri - concludes with a series finale episode on Sunday, November 12 at 7 P.M. ET/PT streaming on Paramount+ with the Paramount+ with SHOWTIME plan and on SHOWTIME linear.
Since the historic 2016 presidential race, THE CIRCUS has brought viewers behind-the-scenes and beyond the headlines of the nation's biggest political stories inside the Beltway and beyond - while delivering the fast-paced, on-the-ground perspective, compelling and unfettered inside access, and eye-catching cinematography for which the show has been celebrated.
For eight seasons, THE CIRCUS has captured everything from Trump's unexpected presidential victory and his contentious time in office, to the polarizing politics of the pandemic, the 2020 election and ensuing insurrection on Capitol Hill, Biden's presidency at a time of international turmoil, and much more. The hosts have traversed the globe to give viewers a look at what the public rarely sees and explore the high human drama inherent in American politics.
"When we started The Circus in 2016, we thought it would be a one-and-done deal. Eight seasons and 130 episodes later, we're still agog that Showtime gave us the trust and support that kept us cranking on this long, strange trip - and let us prove that our idea of doing a weekly, behind-the-scenes, real-time doc series on American politics wasn't as unhinged as it seemed," said host and executive producer John Heilemann. "Our belief in the importance of the story we've been covering and our eagerness to keep covering it, Circus-style, hasn't changed. So when people ask what's next, all we can say is: stay tuned."
John Heilemann is national affairs analyst for NBC News and MSNBC, where he appears regularly on Morning Joe, Deadline: White House, and other programs; host of the Hell & High Water podcast; and co-author of the New York Times No. 1 bestsellers Game Change and Double Down, on the 2008 and 2012 presidential elections, respectively. Game Change was adapted into a feature film of the same name that went on to win five Emmy Awards, three Golden Globes, and a Peabody Award.
Mark McKinnon is a political strategist, reform advocate, media columnist and television producer. He was the chief media adviser to five successful presidential primary and general election campaigns and is cofounder of No Labels, an organization dedicated to bipartisanship, civil dialogue and political problem solving. McKinnon has worked for many causes, companies and candidates, including President George W. Bush, Senator John McCain, Texas Governor Ann Richards and Bono.
Jennifer Palmieri was communications director for Hillary Clinton's 2016 presidential campaign and White House communications director for President Barack Obama. She is the author of the No. 1 New York Times bestseller, Dear Madam President, as well as She Proclaims: Our Declaration of Independence from a Man's World.
THE CIRCUS is produced by Left/Right for SHOWTIME. John Heilemann, Mark McKinnon, Jennifer Palmieri, Banks Tarver, Ken Druckerman, Tom Johnson and Divya Chungi serve as executive producers. To learn more about THE CIRCUS, go to: SHO.com, follow on Twitter, Facebook, and Instagram, and join the conversation using #TheCircus.
Paramount+, a direct-to-consumer digital subscription video on-demand and live streaming service, combines live sports, breaking news and A Mountain of Entertainment(TM). The streaming service features an expansive library of original series, hit shows and popular movies across every genre from world-renowned brands and production studios, including BET, CBS, Comedy Central, MTV, Nickelodeon, Paramount Pictures and the Smithsonian Channel. Paramount+ with SHOWTIME(R), the service's cornerstone plan, is also home to SHOWTIME(R) content including scripted hits, critically acclaimed nonfiction projects, SHOWTIME SPORTS(R) (including industry-leading SHOWTIME Boxing(R)) and films. This premium plan includes unmatched events and sports programming through the local live CBS stream, including golf to basketball and more. All Paramount+ subscribers have streaming access to CBS News Network for 24/7 news and CBS Sports HQ for sports news and analysis.
For more information about Paramount+, please visit www.paramountplus.com and follow @ParamountPlus on social platform.