Roku Originals Gears Up for John Cena's First-Ever Talk Series "What Drives You"
Produced by John Cena and ITV America's Leftfield Pictures, the eight-episode series is fueled by Cena's passion for cars and conversation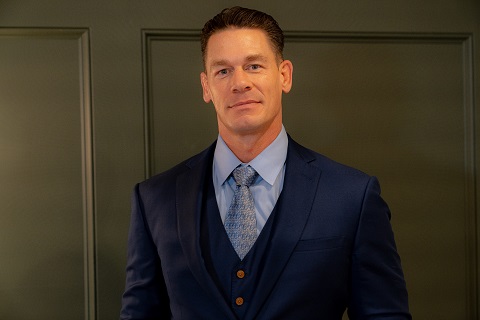 SAN JOSE, Calif. - Nov. 16, 2023 - Today, Roku, America's #1 TV streaming platform*, announced that it has greenlit celebrity talk series "What Drives You," hosted by global icon John Cena. "What Drives You" is also John Cena's first-ever talk series. The new series expands Roku Originals' existing relationship with John Cena which includes Cena's prior role in the comedy series "Die Hart 2: Die Harter" and the upcoming docuseries "WWE Superstars of Tomorrow," featuring and executive produced by Cena.
Cena is revving up the engine in "What Drives You," a breakthrough talk show format, where he'll hit the road with his celebrity friends in their favorite vehicles that hold a special meaning to them. In each episode, he'll hitch a ride with a new guest for an in-depth interview and curiosity-fueled excursion, as they discuss a wide variety of both laugh-out-loud and deeply personal topics, all the while reminiscing about some of the guest's favorite memories associated with their prized ride.
"The car you drive and where you drive it can say a lot about who you are, from your personality type to what you value and prioritize the most," said Cena. "'What Drives You' is all about tapping into this and each guest's unique connection to their car, and a destination close to their heart, as the crux of a candid and wide-ranging conversation. It's a great opportunity for me to ride shotgun and learn from some of the world's most entertaining and inspiring individuals."
"We're thrilled to partner with John Cena and Leftfield Pictures to bring our audience 'What Drives You', a talk series that converges John's passions of cars, conversation and entertainment," said Brian Tannenbaum, Head of Originals, Roku Media. "John infuses extraordinary energy into every conversation he has, giving viewers an under-the-hood look into the lives of each guest."
"We've always felt that John's quick wit, sincere curiosity and charm would make him a terrific host for a talk format, and 'What Drives You' is the perfect vehicle (sorry) to showcase his talent and genuine obsession with all things automotive," said Leftfield Pictures President Shawn Witt. "We're stoked to bring this series to life with him and our partners at Roku."
"What Drives You" is produced by ITV America's Leftfield Pictures. David George, Shawn Witt, Sean Moran, Jay Bienstock, John Cena and Dan Baime are the series' executive producers. Sean Boyle oversees the series on behalf of Roku Originals.
ITV America's Leftfield Pictures produces an array of projects for broadcast, cable and streaming platforms. Helmed by Witt, Leftfield's many series include Roku's "Reptile Royalty," The HISTORY(R) Channel's "Alone," "Pawn Stars," "Counting Cars" and "Forged in Fire," Hulu's "Chefs vs. Wild" and more.
"What Drives You" joins Roku's growing slate of Roku Originals including "The Spiderwick Chronicles," "Honest Renovations," "Morimoto's Sushi Master," "The Great American Baking Show," "Die Hart 2: Die Harter," "Meet Me in Paris," "WEIRD: The Al Yankovic Story," and more. From award-winning scripted entertainment and engaging documentaries to new breakout unscripted series, Roku Originals gives viewers free access to bold, fresh entertainment from the biggest names in Hollywood.
Launched in 2017, The Roku Channel is the home of free and premium entertainment on the Roku platform. In Q4 2022, The Roku Channel reached U.S. households with an estimated 100 million people. The Roku Channel is a top-five channel on the Roku platform by active account reach and streaming hour engagement (Q3 2023). Today, The Roku Channel features a diverse lineup of more than 80,000 free movies and programs and more than 400 free live linear television channels in the U.S. It licenses and distributes content from more than 250 partners.
*By hours streamed (Hypothesis Group: December 2022)
About Roku
Roku pioneered streaming on TV. We connect users to the content they love, enable content publishers to build and monetize large audiences, and provide advertisers with unique capabilities to engage consumers. Roku TV(TM) models, Roku streaming players, and TV-related audio devices are available in various countries around the world through direct retail sales and/or licensing arrangements with TV OEM brands. Roku-branded TVs and Roku Smart Home products are sold exclusively in the United States. Roku also operates The Roku Channel, the home of free and premium entertainment with exclusive access to Roku Originals. The Roku Channel is available in the United States, Canada, Mexico, and the United Kingdom. Roku is headquartered in San Jose, Calif., U.S.A.
Roku and Roku TV are trademarks or registered trademarks of Roku, Inc. in the U.S. and in other countries. Tradenames, trademarks, and service marks of other companies appearing in this press release are the property of their respective holders.