Top 10 Week of March 20: 'The Night Agent' Is the Most Viewed Title This Week; 'Luther' and 'The Glory' Hold Onto Top Spots for Third Consecutive Week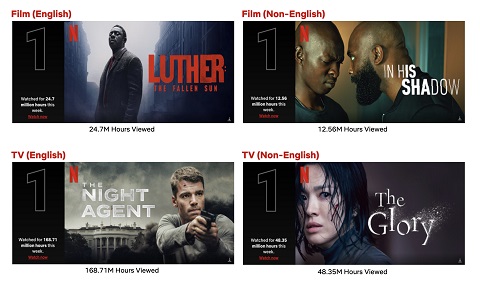 Viewers answered the call to join The Night Agent, which debuted in the #1 spot on the English TV List with 168.71M hours viewed, making it the most viewed title this week. Created by Shawn Ryan and based on the novel of the same name by Matthew Quirk, the action-thriller ranks #3 for premiere week of viewing across all Season 1 TV and appeared in the Top 10 in 93 countries.
New titles on the English TV List included Season 4 of Love Is Blind (25.52M hours viewed for the first five episodes) and Waco: American Apocalypse (21.51M hours viewed). Fan favorites also remained on the list - Season 4 of You, recently renewed for its fifth and final season, Season 3 of Outer Banks, Seasons 1 and 2 of Shadow and Bone, Wednesday and MH370: The Plane That Disappeared.
On the English-language films side, Luther: The Fallen Sun held onto the #1 spot for the third consecutive week with 24.7M hours viewed. Since its debut, the film has amassed more than 73M views (160.2M hours viewed divided by 2.2 runtime hours). Fans went on a remarkable journey with the animated film The Magician's Elephant with 16.73M hours viewed. Documentary Money Shot: The Pornhub Story remained on the list. In anticipation of the March 31st premiere of Murder Mystery 2, fans relived the adventures of Jennifer Aniston and Adam Sandler in Murder Mystery, which entered the list in the #6 spot. Family horror We Have a Ghost closed out the list.
Viewers' thirst for vengeance kept The Glory atop the Non-English TV List for the third straight week with 48.35M hours viewed. The Korean thriller sits in the #6 spot on the Non-English TV Most Popular list with 413.05M total hours viewed. Spanish thriller Sky High: The Series, Korean romantic comedy Crash Course in Romance, Greek drama Maestro in Blue and Season 2 of Spanish drama Wrong Side of the Tracks all returned to the list. New entrants on the list include Turkish thriller Who Were We Running From?, Season 2 of Spanish reality series I Am Georgina and Season 2 of Brazilian fantasy Invisible City.
Viewers returned to their favorites on the Non-English Films List including French drama In His Shadow topping the list, Belgian thriller Noise, Italian romantic comedy Still Time and four-time Academy award winner All Quiet on the Western Front. New to the list are Hindi-language thriller Chor Nikal Ke Bhaga, Polish drama Johnny, Vietnamese drama Furies and Spanish action-adventure Sky High.
To download Top 10 assets, visit Top10.netflix.com.