Top 10 Week of Oct. 30: 'All the Light We Cannot See' and 'Locked In' Debut On Top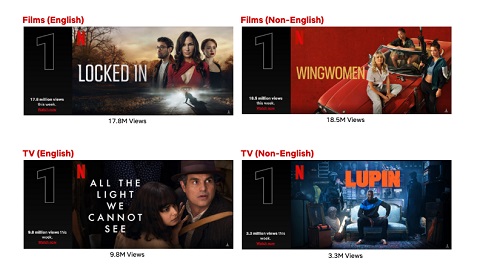 The ​heartening new limited series All the Light We Cannot See, lauded for its epic scope and authentic casting and from director/executive​ producer Shawn Levy and screenwriter Steven Knight, debuted atop the English TV List with 9.8M views reaching the Top 10 in 82 countries.​ Based on the Pulitzer Prize-winning novel ​by Anthony Doerr​, the title​ also returned to The New York Times bestseller list at #5​. The limited murder mystery series Bodies (UK) stayed strong in third place while Mike Flanagan's horror series The Fall of the House of Usher came in seventh place with 2.8M views. Docuseries dominated the remainder of the list. Till Murder Do Us Part: Soering vs. Haysom opened in second place with 4.7M views, the Morgan Freeman-narrated nature series Life on Our Planet landed in fourth place with 4.3M views, true crime documentary Get Gotti nabbed sixth place with 3.2M views and limited docuseries Beckham scored ninth place with 2.7M views.
Erotic crime thriller Locked In (UK) thrilled audiences all the way to the top of the English Films List, debuting at #1 with 17.8M views. Other titles making their first appearance on the list this week included NYAD, starring Annette Bening and Jodie Foster, at #6 and the documentary about global superstar Sylvester Stalloner and his impressive career Sly at #7, both with 4.7M views. Fans can't get enough of Pain Hustlers, starring Emily Blunt and Chris Evans, which came in second place for the second week in a row with 15.2M views. Elsewhere on the list, Spider-Man: Across the Spider-Verse slinged into fourth place with 8.6M views.
The new action comedy Wingwomen (France) nabbed the top spot on the Non-English Films List, debuting at #1 with 18.5M views, making it the most viewed title of the week. The steamy thriller Burning Betrayal (Brazil) came in second place with 6.5M views followed by horror film Sister Death (Spain) in third place with 6.1M views.
Part 3 of crime heist series Lupin (France) returned to #1 on the Non-English TV List with 3.3M views and spent its fifth week on the list. Season 7 of the steamy coming-of-age series Elite (Spain) came in third place with 2.6M views.
To download Top 10 assets, visit Top10.netflix.com.