Top 10 Week of Nov. 13: 'The Crown' Reigns Supreme; 'The Killer' Stays on Top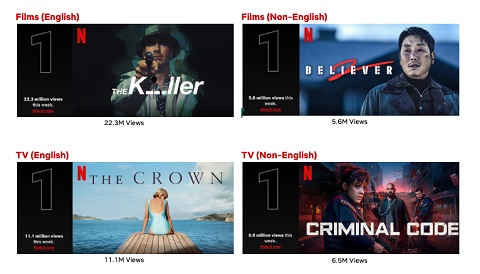 Fans rejoiced at the return of The Crown. Part 1 of the drama series' sixth and final season debuted atop the English TV List with 11.1M views and reached the Top 10 in 85 countries. The final episodes will premiere on December 14. The new stand-up special Matt Rife: Natural Selection laughed its way to second place in its debut week with 7.4M views. The gripping limited series All The Light We Cannot See followed with 5.7M views and reached the Top 10 in 93 countries. Unscripted shows rounded out the list with in-depth docuseries Escaping Twin Flames in fifth place (3.2M views); Season 7 of Selling Sunset in sixth place (2.4M views); and the limited docuseries Robbie Williams, following the English pop phenomenon, in seventh place (2.2M views).
David Fincher's critically acclaimed thriller The Killer sniped down the competition for the second week in a row with 22.3M views, making it the most viewed title of the week. Fans rang in the holiday season with Best.Christmas.Ever!, the new holiday film starring Brandy and Heather Graham, which debuted at #2 (16.3M views). Returning to the list were romantic thriller Locked In (UK) in fourth place (5.1M views), Paw Patrol: The Movie in eighth place (2.7M views) and Pain Hustlers, starring Emily Blunt and Chris Evans, in ninth place (2.6M views).
The new action thriller Believer 2 (Korea) debuted atop the Non-English Films List with 5.6M views. French titles had a strong showing this week with action comedy Wingwomen coming in second place (4.6M views) and the new comedy All-Time High nabbing third place (2.7M views). Fans continued to spread the Christmas cheer with The Claus Family 3 (Belgium) which landed in ninth place (1.4M views).
Over on the Non-English TV List, action drama Criminal Code (Brazil) debuted in first place with 6.5M views. The new thriller Suburræterna (Italy) followed in second place (2.6M views) while Season 3 of The Tailor (Turkey) came in fourth place (2M views). Part 3 of heist drama Lupin spent its seventh week on the list in ninth place (1.5M views).
To download Top 10 assets, visit Top10.netflix.com.