Art Imitates Life As Portrait of "President Francis Underwood" Is Unveiled at the Smithsonian's National Portrait Gallery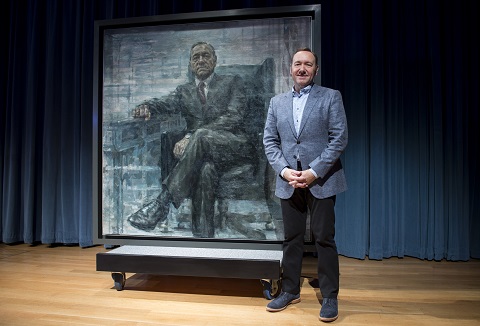 A major new portrait of Kevin Spacey in his role as House of Cards' President Francis J. Underwood was unveiled this evening at the National Portrait Gallery in Washington, D.C. The portrait is a joint project between British artist Jonathan Yeo and the museum, which houses the only complete collection of presidential portraits outside of the White House.
In a case of art imitating life, Spacey arrived for the unveiling at the museum in character as President Underwood. Echoing the format of a presidential portrait unveiling, he joined Portrait Gallery Director Kim Sajet and Yeo in front of an invited audience, which included members of the actual White House press corps and Netflix Chief Content Officer Ted Sarandos.
The character of Underwood, a Machiavellian politician with an insatiable and unscrupulous appetite for power, has captured the imagination of audiences around the world since the launch of House of Cards on Netflix in 2013. Based on the British miniseries of the same name, Netflix's launch of House of Cards was seen as a game changer in the broadcasting industry because it was delivered to audiences as a full series rather than broadcast in the usual weekly episodic pattern. This precipitated a revolution in television and has been credited with a fundamental shift in viewing habits with audiences, who are now in control of their own schedules.
Spacey is executive producer of House of Cards and stars as Underwood. In 2015, he received the Golden Globe for Best Performance by an Actor in a Dramatic Series and the Screen Actors Guild Award for Best Actor in a Drama Series, which he was awarded for a second time in 2016. He is a two-time Academy Award winner and also founded a film production company, Trigger Street, which has produced multiple award-winning films. For the past decade, Spacey was the artistic director of London's Old Vic Theatre.
Yeo is regarded as one of the preeminent portrait artists of his generation. His previous sitters have included many of the world's best known cultural, media and political figures, including current British Prime Minister David Cameron; Prince Philip, the Duke of Edinburgh; actors Dennis Hopper, Nicole Kidman and Sienna Miller; artists, including Damien Hirst; and public figures such as Malala Yousafzai.
Yeo and Spacey have collaborated before, with Yeo's depiction of Spacey as Shakespeare's Richard III forming part of his first major retrospective at the National Portrait Gallery in London. When the Smithsonian asked Yeo to contribute a portrait of Spacey to their collection, he visited the set of House of Cards and was inspired by the impact of the show and the character of Underwood on popular culture. Reflecting the heritage of the Smithsonian and its role as the custodian of the presidential portrait collection, Yeo and Spacey, supported by the museum's curators, decided that the subject should be President Underwood seated at the Oval Office desk.
"This collaboration with Kevin Spacey, Jonathan Yeo and the museum has resulted in a work that depicts the actor in a compelling role," said Kim Sajet, director of the National Portrait Gallery. "We were captivated by Jonathan's bold idea to depict Kevin Spacey as Frank Underwood, which also reflects the changing way in which people consume media. Now 'binge watching' television has put control into the hands of consumers, who can watch their favorite shows at their leisure. Not only does it reflect the impact of popular contemporary culture on America's story but it also exemplifies the fine art tradition of actors portrayed in their roles."
"I'm pleased that the Smithsonian continues to prove itself as a worthwhile institution," said Underwood. "I'm one step closer to convincing the rest of the country that I am the President."
"Actually, I'm really delighted to be included in a work of art at such a remarkable institution," added Spacey. "When the Smithsonian's Portrait Gallery first approached Jonathan and me about a portrait of me - the actor - I wanted to see if Jonathan could unveil a fully rendered presidential portrait. It is a real honor to be exhibited at the Smithsonian and a thrill to see Frank take his place among the presidents in this historic setting."
"As a portrait painter, depicting a brilliant actor doing their job presents a particular challenge as you are trying to capture both their portrayal and some of their actual character on the canvas," Yeo said. "Kevin Spacey and I have been collaborating for several years around the idea of life and art crossing over. What an actor does when they inhabit a role in many ways parallels what happens when you make a piece of artwork based on a living subject. The fact that his House of Cards character is a fictional one but based on an a real-life role, not to mention that this is all happening in the institution and city where the genuine events normally take place, is intended to highlight this interplay. It's a huge honor for me to see this portrait of Kevin playing Frank Underwood unveiled at one of the most important institutions in the world."
Following the portrait unveiling, guests were treated to an exclusive preview of the first episode of the new season of House of Cards, which launches on Netflix March 4. In the new season, Frank (Spacey) and Claire (Robin Wright), who have always been each other's strongest allies, show cracks in their relationship. In an election year, the stakes are now higher than ever, and the biggest threat they face is contending with each other.
Commenting on the installation of the portrait of Underwood at the Smithsonian and the new season of House of Cards, Sarandos said, "It is a great honor to see one of our most renowned series' characters immortalized in the National Portrait Gallery, alongside such esteemed presidential portraits. We have watched as the character of Frank Underwood has taken hold in popular culture and this wonderful portrait by Jonathan Yeo is a fine testament to the impact of the character that Kevin Spacey has created. We are delighted to celebrate this unprecedented event with the premiere of the fourth season of House of Cards."
The portrait will hang on public display at the National Portrait Gallery from Wednesday, Feb. 24, through October.
National Portrait Gallery
The Smithsonian's National Portrait Gallery tells the multifaceted story of America through the individuals who have shaped its culture. Through the visual arts, performing arts and new media, the Portrait Gallery portrays poets and presidents, visionaries and villains, actors and activists whose lives tell the American story.
The National Portrait Gallery is part of the Donald W. Reynolds Center for American
Art and Portraiture at Eighth and F streets N.W., Washington, D.C. Smithsonian Information: (202) 633-1000. Website: npg.si.edu. Connect with the museum at @NPG, Facebook, YouTube, Instagram and Tumblr.
Jonathan Yeo
Leading portrait artist Yeo creates his paintings by developing unique personal relationships with his subjects. His sitters include many of the world's best-known cultural, media and political figures. Between 2013 and 2014, Yeo, who is entirely self-taught, was the subject of museum exhibitions at London's National Portrait Gallery, the Lowry (Salford, England) and the Laing Art Gallery (Newcastle-upon-Tyne, England). He has exhibited widely in group and solo shows in the U.S., Europe and East Asia.
House of Cards
House of Cards, the critically acclaimed Emmy-nominated drama has its Golden Globe- winning stars Kevin Spacey (as Francis Underwood) and Robin Wright (as Claire Underwood). The series also stars Michael Kelly, Mahershala Ali, Jayne Atkinson, Neve Campbell, Derek Cecil, Nathan Darrow, Kim Dickens, Elizabeth Marvel, Dominique McElligott, Molly Parker and Paul Sparks, with Ellen Burstyn, Cicely Tyson and Joel Kinnaman. All 13 episodes of the one-hour drama produced by Donen/Fincher/Roth and Trigger Street Productions Inc. in association with Media Rights Capital will premiere Friday, March 4, at 12:01 a.m. only on Netflix. Connect with House of Cards on Twitter, Facebook and Instagram