[10/16/21 - 10:15 AM]
"The Flash" Gets a Supersuit Upgrade... and It's Golden
Although the Speedster's supersuit has been evolving over the years, the iconic gold boots from DC comic books had not materialized until now.
---
[via press release from Warner Bros. Television]
THE FLASH GETS A SUPERSUIT UPGRADE... AND IT'S GOLDEN
New Look Revealed for Grant Gustin's The Flash at DC FanDome 2021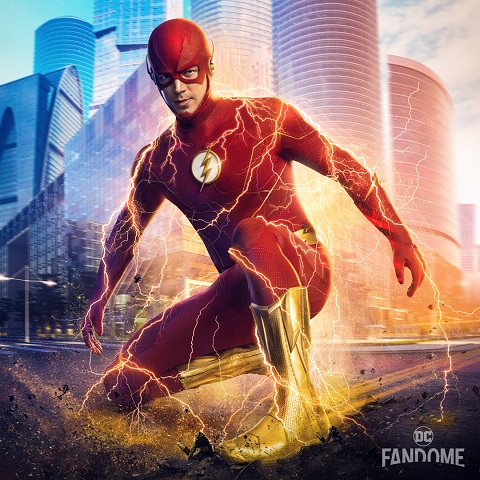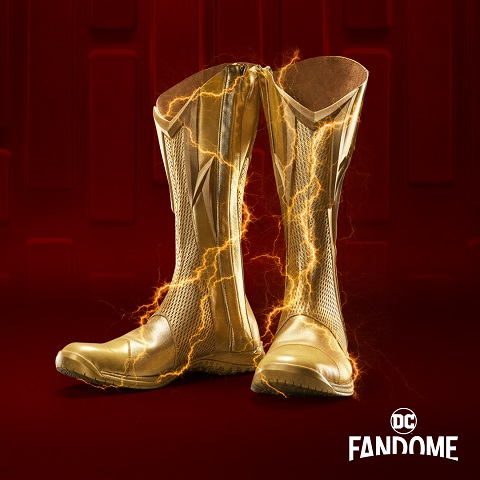 BURBANK, Calif. (October 16, 2021) - These boots were made for running... and looking Flash. For season eight of The Flash, Barry Allen aka The Flash (series star Grant Gustin) will be sporting some fancy new footwear - a pair of gold boots! Although the Speedster's supersuit has been evolving over the years, the iconic gold boots from DC comic books had not materialized until now. When asked about the upgrade at DC FanDome, Gustin described them as "the final element that's been missing. I've loved all the versions of The Flash suit we've had on the show, but the suit we have now is the closest to the many iterations you see in the comic books - with the exception of those gold boots! I've always felt that those boots would be the final touch."
DC FanDome viewers also saw the official first look at The Flash's new suit, which features a newly designed center crest and wings. And the complete new look was revealed today in a photo of Gustin.
From Berlanti Productions in association with Warner Bros. Television, The Flash returns for season eight with the five-part "Armageddon" mega-event beginning Tuesday, November 16, at 8/7c on The CW. Based on the DC characters, the series is executive produced by Greg Berlanti, Eric Wallace, Sarah Schechter, Jonathan Butler and Gabriel Garza.




[12/07/21 - 11:00 AM]
Video: "Snowpiercer" Season Three First-Look Trailer Reveals Hope for Civilization as Earth Begins to Warm
As previously announced, season three of "Snowpiercer" premieres on Monday, January 24 at 9:00/8:00c.


[12/07/21 - 11:00 AM]
Netflix Renews Hit Series "Outer Banks" for Third Season
Returning as series regulars are Chase Stokes, Madelyn Cline, Madison Bailey, Jonathan Daviss, Rudy Pankow, Austin North, Drew Starkey, and Charles Esten.


[12/07/21 - 10:17 AM]
SK Global Acquires Dean Koontz #1 Bestselling Collection Of "Nameless" Thrillers for Series Adaptation
The series project is part of the recently announced first-look pact between SK Global and Henry Golding.


[12/07/21 - 10:07 AM]
Apple TV+ Picks Up Award-Winning Anthology Drama Series "Truth Be Told" for Third Season
Created and executive produced by Nichelle Tramble Spellman, season three will be helmed by Maisha Closson who will also serve as showrunner and executive producer.


[12/07/21 - 10:00 AM]
HBO Max Renews "The Sex Lives of College Girls" for a Second Season
Consistently ranking among HBO Max's top titles, the series has hit new platform highs each week, with the most recent release on Thursday growing over 40% vs. its debut.


[12/07/21 - 09:05 AM]
Actress And Comedian Retta Tours the Country's Most Hideous Homes in HGTV's New Event Series "Ugliest House in America"
The new series will feature tours of 12 properties that were nominated by homeowners who believe their design-challenged home is one of the worst in the country.


[12/07/21 - 09:01 AM]
Video: "Action Pack" New Series Trailer - Netflix Jr
On January 4, get ready for a new class of superheroes.


[12/07/21 - 08:32 AM]
Giada De Laurentiis Signs New Exclusive Agreement with Discovery's Food Network
Under the new deal, Giada will continue to produce and front content for both the linear network and the discovery+ streaming service, including the all-new series "Simply Giada," premiering Sunday, January 9 on Food Network.


[12/07/21 - 08:21 AM]
Apple Studios to Produce Adam McKay and Jennifer Lawrence's Theranos Feature "Bad Blood" Starring Lawrence as Elizabeth Holmes
The film will chart the dramatic story of Holmes' Silicon Valley blood testing startup that catapulted her to being the youngest and richest self-made billionaire before claims of fraud brought everything crashing down.


[12/07/21 - 08:06 AM]
Video: "Rebelde" - Official Trailer - Netflix
As Elite Way School starts a new term, a familiar enemy - a secret society called the Lodge - threatens to crash the musical hopes of the first-years.


[12/07/21 - 08:04 AM]
Acorn TV Sets Premiere Date for Powerful and Award-Winning Film "Help"
"Help," which recently won the Rose d'Or Award for Best Drama, premieres Monday, January 31 on Acorn TV.


[12/07/21 - 07:42 AM]
A&E Network to Debut Documentary Series Event "Secrets of Playboy" Beginning Monday, January 24 at 9PM ET/PT
Four years after Hugh Hefner's death, insiders, colleagues, executives, Playmates and employees from all levels of the brand share the full story of what life within the Playboy world was truly like.


[12/07/21 - 06:00 AM]
"Dick Clark's New Year's Rockin' Eve with Ryan Seacrest 2022" Announces Co-Host and Headliner in Puerto Rico for the Show's First-Ever Spanish Language Countdown Only on ABC
The show has also added Puerto Rican actress and singer Roselyn Sanchez as a co-host to oversee the historic New Year's Eve festivities in Puerto Rico.


[12/06/21 - 02:01 PM]
Video: "Bubble" - Official Teaser - Netflix
In a Tokyo where gravity has broken, a boy and a girl are drawn to each other...


[12/06/21 - 01:08 PM]
Performers and Presenters Announced for the 2021 "People's Choice Awards" Tomorrow, December 7 at 9:00PM ET/PT
The 2021 "People's Choice Awards" will air simultaneously on both NBC and E! on Tuesday, December 7 at 9pm ET/PT from the Barker Hangar in Santa Monica, CA.