[01/05/23 - 01:36 PM]
"Stand," A Look at the Courageous Journey of Activist and Basketball Phenom Mahmoud Abdul-Rauf, to Premiere Friday, February 3 on Showtime
The raw and unflinching documentary details Abdul-Rauf's unprecedented journey from schoolboy prodigy to NBA All-Rookie team to national pariah.
---
[via press release from Showtime]
"STAND," A LOOK AT THE COURAGEOUS JOURNEY OF ACTIVIST AND BASKETBALL PHENOM MAHMOUD ABDUL-RAUF, TO PREMIERE FRIDAY, FEBRUARY 3 ON SHOWTIME(R)
SHOWTIME Sports Documentary Films Releases Official Poster Art for Feature-Length Film That Includes the Voices of Stephen Curry, Shaquille O'Neal, Mahershala Ali, Ice Cube and More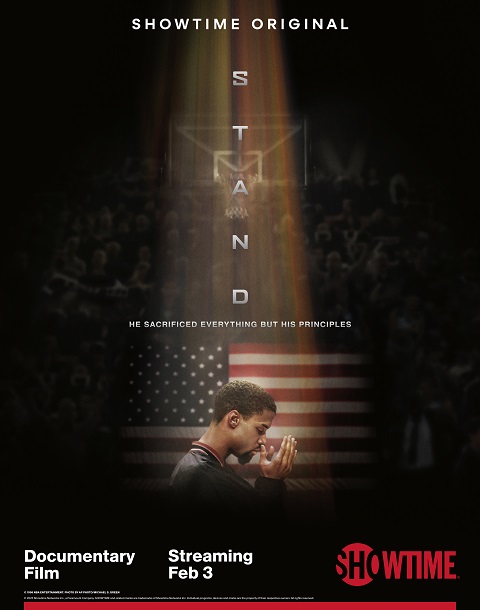 Courtesy of SHOWTIME
NEW YORK - January 5, 2023 - STAND, the feature-length examination of the remarkable life of social justice activist and basketball prodigy Mahmoud Abdul-Rauf from SHOWTIME Sports Documentary Films, will premiere Friday, February 3 at 9 p.m. ET/PT on SHOWTIME and will be available across the network's on-demand and streaming platforms at premiere.
SHOWTIME Sports Documentary Films also released the official poster art for the documentary that features in-depth interviews with basketball and entertainment stars including Stephen Curry, Steve Kerr, Shaquille O'Neal, Jalen Rose, Mahershala Ali, Ice Cube and more.
The raw and unflinching STAND details Abdul-Rauf's unprecedented journey from schoolboy prodigy to NBA All-Rookie team to national pariah.STAND explores the personal struggles of Abdul-Rauf - born Chris Jackson in Gulfport, Mississippi - and how he overcame overwhelming odds, including extreme poverty and Tourette's Syndrome, to make it to basketball's biggest stage. The film also details Abdul-Rauf's conversion to Islam and his groundbreaking stand against racism and for social justice, and the backlash that ensued.
The film is directed by Joslyn Rose Lyons, making her feature-length directorial debut. The executive producers are Sarah Allen, Mike Tollin and Mason Gordon of MSM. The film is produced by Colleen Dominguez and Tom Friend.
Showtime Networks Inc. (SNI), a wholly owned subsidiary of Paramount, owns and operates the premium service SHOWTIME(R), which features critically acclaimed original series, provocative documentaries, box-office hit films, comedy and music specials and hard-hitting sports. SHOWTIME is available as a stand-alone streaming service across all major streaming devices and Showtime.com, as well as via cable, DBS, telco and streaming video providers. SNI also operates the premium services THE MOVIE CHANNEL(TM) and FLIX(R), as well as on demand versions of all three brands. SNI markets and distributes sports and entertainment events for exhibition to subscribers on a pay-per-view basis through SHOWTIME PPV(R). For more information, go to www.SHO.com.




[02/03/23 - 12:13 PM]
Truth and Rumors Go Head to Head on Bravo's "The Real Housewives of Potomac" Three-Part Reunion Beginning Sunday, Feb. 19 at 8 P.M. ET/PT
Host Andy Cohen returns to the couch with Gizelle Bryant, Karen Huger, Ashley Darby, Robyn Dixon, Candiace Dillard Bassett, Dr. Wendy Osefo, Mia Thornton, and friends Charrisse Jackson Jordan and Jacqueline Blake to reflect on a season full of shocking rumors and fractured friendships.


[02/03/23 - 12:00 PM]
DJ Khaled and Musical Collaborators Fridayy, Jay-Z, John Legend, Lil Wayne and Rick Ross Will Perform at "The 65th Annual Grammy Awards"
Music's Biggest Night will be broadcast live from Crypto.com Arena in Los Angeles Sunday, February 5 (8:00-11:30 PM, live ET/5:00-8:30 PM, live PT) on the CBS Television Network, and will be available to stream live and on demand on Paramount+.


[02/03/23 - 11:54 AM]
discovery+ and ID Highlights - Weeks of February 13 and February 20
Concurrent premieres include "Death by Fame," "The Playboy Murders," "See No Evil" and "Evil Lives Here."


[02/03/23 - 10:35 AM]
ESPN's "NFL Live" Delivers Show's Best Monthly Viewership in More than Six Years, January Continues Impressive Streak of Audience Accolades
In short, January 2023 and January 2022 delivered the most-watched months of "NFL Live" since September 2016.


[02/03/23 - 10:01 AM]
Hello Again, Wisconsin! Netflix Orders Second Season of Hit Comedy "That '90s Show"
Season one premiered on January 19 and immediately reached Netflix's Top 10 English TV list in 35 countries, with more than 41 million hours viewed.


[02/03/23 - 10:00 AM]
HBO Original Documentary "Love to Love You, Donna Summer" Debuts May 2023
The film is an in-depth look at the iconic artist as she creates music that takes her from the avant-garde music scene in Germany, to the glitter and bright lights of dance clubs in New York, to worldwide acclaim, her voice and artistry becoming the defining soundtrack of an era.


[02/03/23 - 09:18 AM]
FOX Sports Unveils Expansive 2023 Daytona Speedweeks Broadcaster Lineup, Highlighted by Network's 20th Daytona 500
FOX Sports today announces its premier broadcaster lineup for the 2023 Daytona Speedweeks and NASCAR's 75th anniversary season, highlighted by a slate of veteran FOX NASCAR voices and a proven, compelling rotation of guest analysts.


[02/03/23 - 09:15 AM]
Stevie Wonder, Smokey Robinson and Chris Stapleton Will Perform at "The 65th Annual Grammy Awards"
Trevor Noah returns as host for the third consecutive year.


[02/03/23 - 09:08 AM]
"The Terminal List" Universe Expands - Prime Video Confirms Season Two, Starring Chris Pratt, and Orders New Taylor Kitsch Led Origin Series
Pratt will appear in both series, which are co-produced by Amazon Studios and Civic Center Media, in association with MRC Television.


[02/03/23 - 09:03 AM]
"Marcella Arguello: Bitch, Grow Up!" Debuts February 10 on HBO Max
This Galentine's Day, tune in to watch Marcella Arguello, one of Los Angeles' most exciting Latinx comedians, deliver a night of unadulterated laughter.


[02/03/23 - 09:01 AM]
Video: Rob Lowe & John Owen Lowe Play Father & Son on "Unstable" - Netflix
An introverted son must work for his successful, wildly eccentric father in order to save his dad - and his company - from disaster.


[02/03/23 - 09:01 AM]
Video: CNN Films Releases Trailer, Premiere Date and Key Art for "Glitch: The Rise & Fall of HQ Trivia" Broadcast on CNN
Presented by CNN Films and HBO Max, in association with Left/Right, this timely documentary chronicles the tech-fueled rise and Fyre-style fall of HQ Trivia, the revolutionary "game show on your phone" app that went viral, swept the nation, then crashed and burned.


[02/03/23 - 08:00 AM]
TBS Awards $25,000 to Four Grand Prize Winners of the Second Annual TBS HBCU Cash Out Contest
Presented by TBS/TNT/truTV's MORE Initiative, the interactive social media contest aims to financially empower recent graduates of historically black colleges and universities.


[02/03/23 - 07:51 AM]
New Daytime Series "Secret Sauce with Todd Graves" Premieres on A&E on Saturday, March 4th at 1pm
In the series, Todd Graves, the CEO of Raising Cane's and self-described fry cook and cashier, meets people from all walks of life to learn about their paths to success.


[02/03/23 - 07:17 AM]
AMC Networks Renews "Anne Rice's Mayfair Witches" for Second Season
Production on season two is expected to begin later this year in New Orleans.