[10/14/21 - 02:34 PM]
All-New Special "World Pet Games" Premieres This Thanksgiving - Thursday, Nov. 25 at 8/7c on FOX
The special is co-hosted by Erin Andrews and Finesse Mitchell, with Rachel Bonnetta serving as sideline reporter.
---
[via press release from FOX]
OH MY GOURD...
AN INTERNATIONAL, INTERSPECIES, ATHLETIC COMPETITON FOR ANIMALS?!
FOX IS BRINGING "WORLD PET GAMES" THIS THANKSGIVING!
GATHER THE FAMILY THIS THANKSGIVING NIGHT FOR AN ALL-NEW TWO-HOUR COMPETITION SHOWCASING THE MOST ATHLETIC PETS AND THE UNIQUE BOND SHARED BETWEEN ANIMAL AND HUMAN, AIRING THURSDAY, NOV. 25 @ 8/7c ON FOX!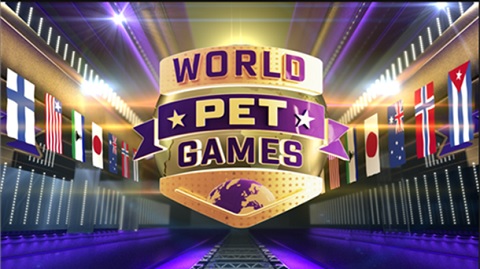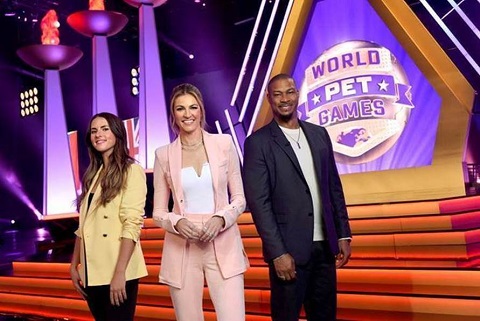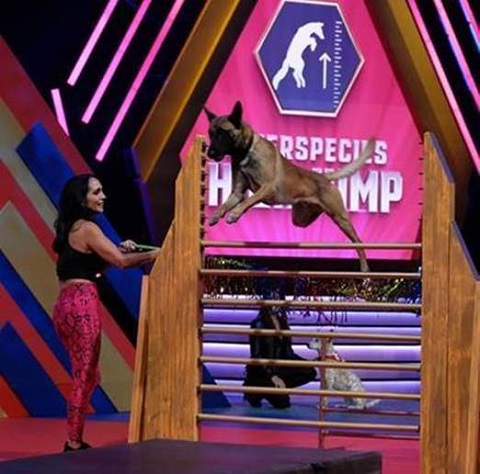 Co-hosted by Erin Andrews and Finesse Mitchell, with Rachel Bonnetta serving as sideline reporter, WORLD PET GAMES is for animal lovers of every kind!
With the energy of a world-wide spectacle, contestants will represent nearly 20 countries from around the globe in this very special international championship featuring animals of all varieties, from your favorite felines to an exotic armadillo and bearded dragon to an adorable miniature horse whose story will touch your heart, along with many other surprising moments! Pet owners will showcase just how skilled their furry friends are in five outrageous events including an Interspecies Race and Dunk Off, a Cat Obstacle Course, an Extreme Dog Catch and a Dog High Jump. In each competition, there will be a medal ceremony to see who will bring home the Gold, Silver and Bronze medals. The Gold medal winner from each event will also receive a donation to an animal charity made in their honor.
WORLD PET GAMES is produced by MGM TELEVISION with Mark Burnett, Barry Poznick, Holly Wofford, Steve Hughes and Sean Kelly serving as Executive Producers.
For more information on WORLD PET GAMES, Follow FOX TV on: Facebook Twitter Instagram
-FOX-




[10/16/21 - 02:35 PM]
Video: Additional DC FanDome 2021 Trailers and Clips Related to Warner Bros. Television Series
"Batwoman," "DC's Legends of Tomorrow," "DC's Stargirl," "Naomi," "Supergirl," "Superman & Lois" and "Sweet Tooth" were among those featured.


[10/16/21 - 01:59 PM]
Video: Sneak Peeks from "DC League of Super-Pets," "Aquaman: King of Atlantis," "Batwheels," "Teen Titans Go!," "DC Super Hero Girls" and Many More!
DC FanDome was a family affair, with the youngest DC fans kicking off the day with their own special experience in DC Kids FanDome.


[10/16/21 - 01:31 PM]
Video: "Young Justice" - First Four Minutes - HBO Max
The first two episodes of the new season, "Phantoms," are now available on HBO Max.


[10/16/21 - 01:20 PM]
"Pennyworth" to Become Max Original with New Original Third Season in 2022
The first two seasons will also be available on the platform in early 2022.


[10/16/21 - 12:35 PM]
HBO Max Renews "Titans" for a Fourth Season
The streamer also revealed a first look at the season three finale ahead of its debut this Thursday, October 21.


[10/16/21 - 12:01 PM]
Video: All the Superman News from DC Kids FanDome - HBO Max Family
Take a look at a teaser image of the "My Adventures with Superman" series coming to HBO Max.


[10/16/21 - 11:46 AM]
"The Sandman" Photos: First Look at Gwendoline Christie as Lucifer
Based on Neil Gaiman's landmark comic book series, "The Sandman" stars Tom Sturridge as Dream.


[10/16/21 - 11:29 AM]
HBO Max Renews "Doom Patrol" for a Fourth Season
The network also released a mid-season trailer in anticipation of the remaining episodes of season three, which debut weekly on the service every Thursday until November 11.


[10/16/21 - 11:01 AM]
Video: All the Batman News from DC Kids FanDome - HBO Max Family
Watch an exclusive tease of "Batman: Caped Crusader," coming in 2023!


[10/16/21 - 10:59 AM]
"Peacemaker" Premieres January 13 on HBO Max
The series will explore the origins of the character that John Cena first portrayed in James Gunn's 2021 film, "The Suicide Squad" - a compellingly vainglorious man who believes in peace at any cost, no matter how many people he has to kill to get it.


[10/16/21 - 10:15 AM]
"The Flash" Gets a Supersuit Upgrade... and It's Golden
Although the Speedster's supersuit has been evolving over the years, the iconic gold boots from DC comic books had not materialized until now.


[10/15/21 - 03:00 PM]
Video: "Doctor Who" Releases Trailer for Season 13 and Reveals Guest Actors and Monsters
The trailer also includes a preview of returning monsters - Sontarans, Weeping Angels, Cybermen, and the Ood, as well as a range of new monsters, one of whom is named Karvanista.


[10/15/21 - 01:31 PM]
Hollywood Foreign Press Association Announces Awards Timetable for 79th Annual Golden Globe Awards
Nominations will be announced on Monday, December 13, 2021, with award winners announced on January 9, 2022.


[10/15/21 - 11:00 AM]
Video: TBS and Cartoon Network Release First-Look Teaser at "Harry Potter: Hogwarts Tournament of Houses" Hosted by Helen Mirren
The four-part competition series will debut a new episode every Sunday, beginning November 28 through December 19, on TBS and as part of Cartoon Network's ACME Night.


[10/15/21 - 10:01 AM]
Original Live-Action TV Movie, "A Loud House Christmas," Premieres Friday, Nov. 26, on Nickelodeon and Paramount+
In the feature-length TV movie, Lincoln Loud (Wolfgang Schaeffer) realizes his family may be apart for Christmas and enlists the help of his best friend, Clyde McBride (Jahzir Bruno), to ensure that the entire Loud family celebrate the holidays together.