[05/05/22 - 11:02 AM]
First Look at Randall Park & Melissa Fumero on Set of Netflix's New Comedy Series "Blockbuster"
Later tonight, Randall Park, Melissa Fumero, JB Smoove and Tyler Alvarez will be competing against each other in a Movie Trivia Happy Hour event out of Netflix is a Joke: The Festival.
---
[via press release from Netflix]
FIRST LOOK AT RANDALL PARK & MELISSA FUMERO ON SET OF NETFLIX'S NEW COMEDY SERIES "BLOCKBUSTER"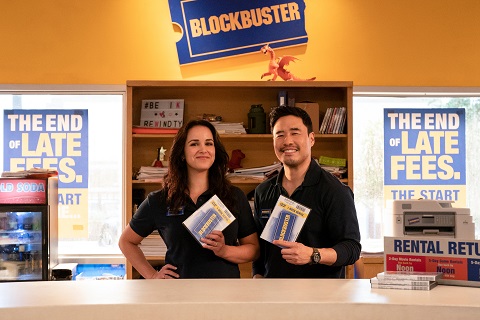 Today, Netflix debuted a first look photo of Randall Park and Melissa Fumero on the set of the upcoming comedy series BLOCKBUSTER.
Later tonight, Randall Park, Melissa Fumero, JB Smoove and Tyler Alvarez will be competing against each other in a Movie Trivia Happy Hour event out of Netflix is a Joke: The Festival.
Cast: Randall Park, Melissa Fumero, Tyler Alvarez, Madeleine Arthur, Olga Merediz, JB Smoove and Kamaia Fairburn
About: An ensemble comedy that takes place in the last Blockbuster Video in America, that explores what it takes - and more specifically who it takes - for a small business to succeed against all odds.
Blockbuster is produced by Universal Television, a division of Universal Studio Group. The series is created by Vanessa Ramos (Superstore, Brooklyn Nine-Nine) with David Caspe (Happy Endings, Black Monday) and Jackie Clarke (Superstore, Happy Endings) also serving as writers/executive producers. John Davis and John Fox also executive produce for Davis Entertainment (Jungle Cruise).




[05/17/22 - 10:03 AM]
"We Hunt Together" to Return to Showtime This Summer
The second season will roll out Friday, June 24, when all six episodes will be available on streaming and on demand for Showtime subscribers before making its on-air debut with its first two episodes on Sunday, June 26 at 7:30/6:30c.


[05/17/22 - 10:02 AM]
Major Matchups and Rivalry Games on ABC Highlight ESPN's Early Season College Football Schedule - "College GameDay Built by The Home Depot" Kicks Off 2022 at Notre Dame-Ohio State
All of the Power 5 conferences are represented in this initial schedule of six ABC games featuring classic college football rivals and top-tier showdowns at neutral sites.


[05/17/22 - 10:00 AM]
ABC Unveils 2022-2023 Fall Primetime Schedule
Highlights include two nights of "Bachelor in Paradise" on Mondays and Tuesdays, plus the debut of "Celebrity Jeopardy!" on Sundays.


[05/17/22 - 09:01 AM]
Apple TV+ Announces Second Season for Innovative Emmy Award-Nominated Design Docuseries "Home," Set to Premiere Globally Friday, June 17
Each episode in the second season of "Home" unveils the boundary-pushing imagination of the visionaries who dared to dream and build them around the world, including the Netherlands, South Africa, Indonesia, Australia, Mexico, Iceland, and more.


[05/17/22 - 08:56 AM]
Boston Celtics Game 7 Victory Over Milwaukee Bucks on ABC Is Most-Watched Eastern Conference Semifinals Game in 10 Years: Average Audience of 7,481,000 Viewers
The broadcast averaged 7,481,000 viewers, peaking with 9,559,000 viewers at 6 p.m. ET.


[05/17/22 - 08:23 AM]
It's Draft Season: 2022 NBA Draft Presented by State Farm on ESPN and ABC
The annual post-NBA Finals event will include broadcasts on ESPN and ABC.


[05/17/22 - 08:15 AM]
Start of Production Announced for the Paramount+ Original Series "Rabbit Hole"
Produced by CBS Studios, the eight-episode season will premiere exclusively on Paramount+ later this year.


[05/17/22 - 08:01 AM]
Production Is Underway in Atlanta for Marvel Studios' Series "Echo" Coming to Disney+ in 2023
Streaming exclusively on Disney+ in 2023, the origin story of Echo revisits Maya Lopez, whose ruthless behavior in New York City catches up with her in her hometown.


[05/17/22 - 07:30 AM]
Netflix to Roast Gisele Bundchen's Husband, Tom Brady
The roast will be the first in a series of new Netflix specials, "Greatest Roasts of All Time: GROAT."


[05/17/22 - 07:01 AM]
Video: "Spiderhead" - Chris Hemsworth - Official Trailer - Netflix
A prisoner in a state-of-the-art penitentiary begins to question the purpose of the emotion-controlling drugs he's testing for a pharmaceutical genius.


[05/17/22 - 07:01 AM]
Video: "Irma Vep" - Official Teaser - HBO
Starring Alicia Vikander and directed by Olivier Assays, "Irma Vep" premieres Monday, June 6.


[05/17/22 - 05:59 AM]
Voltage and Roku Originals Team Up with Channel 4 on "Tempting Fortune"
The series will debut in the U.K. on Channel 4 and exclusively on The Roku Channel in the U.S.


[05/17/22 - 01:54 AM]
Disney+ Reveals First Wave of 2022/23 Australian Originals Showcasing the Best of the Local Film and Television Industry
Announced at an event held at Sydney's Museum of Contemporary Art, the slate of local and sure to be loved content includes three scripted drama series: "The Clearing", "The Artful Dodger", and "Last Days of the Space Age."


[05/16/22 - 01:45 PM]
ABC News Studios Presents New Hulu Original Investigating One of Oklahoma's Most Notorious Murders at a Girl Scout Sleepaway Camp
All four episodes of "Keeper of the Ashes: The Oklahoma Girl Scout Murders" begin streaming Tuesday, May 24, only on Hulu.


[05/16/22 - 01:32 PM]
FOX Renews "9-1-1" and "The Resident"
The network has renewed both hit dramas for their sixth seasons, which will air in 2022-23.