Prime Video Acquires Exclusive U.S. Streaming Rights From MGM for "The Devil's Confession: The Lost Eichmann Tapes"
The three-part docuseries, available January 31, features never-before-heard confessions from Adolf Eichmann, a chief architect in the planning and implementation of the Holocaust's "Final Solution"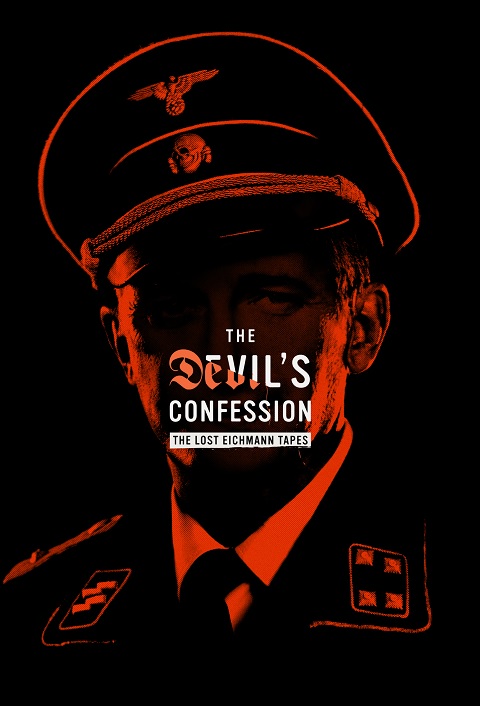 CULVER CITY, California - January 31, 2023 - Prime Video today announced that it has acquired The Devil's Confession: The Lost Eichmann Tapes, a three-part docuseries presented by MGM Television and SIPUR, in association with Kan 11, Toluca Pictures, and Alice Communications, that brings to light the audio recordings of Adolf Eichmann detailing his role as one of the leading perpetrators behind the Holocaust's "Final Solution." The docuseries is available to stream now on Prime Video in the U.S. only.
The Devil's Confession: The Lost Eichmann Tapes features 28 hours of taped interviews - long believed to be lost - with Nazi SS officer Adolf Eichmann, recorded in 1957 while he was in hiding in Argentina. In the interviews, conducted by Nazi journalist Willem Sassen, Eichmann confesses to his own role in the genocide perpetrated against the Jewish population of Europe as an architect of the Holocaust. When Eichmann was captured and taken to Israel, written transcripts from the interviews were sold to LIFE magazine and published. In 1961, the District Court of Jerusalem tried Eichmann, and the tapes became a focus of the trial. Chief prosecutor Gideon Hausner presented the transcripts as evidence, but because powerful forces had an interest to keep the tapes hidden, he was unable to present the audio, giving Eichmann the opportunity to deny his role in the Holocaust. Recently, the original tapes were rediscovered in the Bundesarchiv, Germany's national archives, and access was granted to make The Devil's Confession: The Lost Eichmann Tapes. Nazis have always denied their participation in the Holocaust and now, for the first time, we can hear Eichmann's chilling confession to his crimes against humanity.
"We're honored to work with MGM Television and SIPUR to bring The Devil's Confession: The Lost Eichmann Tapes to our US Prime Video customers," said Vernon Sanders, head of global television for Amazon Studios. "This riveting and important documentary series reminds us how the atrocities of the past should never be forgotten."
The docuseries includes interviews from Holocaust survivors, key witnesses at the Eichmann trial, historians, and experts on the Holocaust.
The Devil's Confession: The Lost Eichmann Tapes is written and directed by Yariv Mozer. Steve Stark (Toluca Pictures), Guilhad Emilio Schenker, Gideon Tadmor, Eldad Koblenz, Tal Fraifeld, Gili Gaon, Michael Peter Schmidt, Russ McCarroll serve as executive producers, alongside producer Kobi Sitt. The docuseries was also produced by Toluca Pictures and Alice Communications in association with Kan 11, the country's public broadcaster, and is distributed by MGM.
ABOUT PRIME VIDEO
Prime Video offers customers a vast collection of movies, series, and sports - all available to watch on hundreds of compatible devices.
· Included with Prime Video: Watch movies, series, and sports, including Thursday Night Football. Enjoy series and films including Emmy winners The Marvelous Mrs. Maisel and Lizzo's Watch Out for the Big Grrrls, Emmy-nominated satirical superhero drama The Boys, and the smash hits The Lord of The Rings: The Rings of Power, Tom Clancy's Jack Ryan, Shotgun Wedding, Samaritan, Thirteen Lives, The Tender Bar, Being the Ricardos, The Tomorrow War, Reacher, and Coming 2 America. Prime members also get access to licensed content.
· Prime Video Channels: Prime members can add channels like discovery+, Paramount+, BET+, MGM+, ViX+, PBS KIDS, NBA League Pass, MLB.TV, STARZ, and SHOWTIME - no extra apps to download, and no cable required. Only pay for the ones you want, and cancel anytime. View the full list of channels available at amazon.com/channels.
· Rent or Buy: Enjoy new-release movies to rent or buy, entire seasons of current TV shows available to buy, and special deals just for Prime members.
· Instant access: Watch at home or on the go with your choice of hundreds of compatible devices. Stream from the web or using the Prime Video app on your smartphone, tablet, set-top box, game console, or select smart TV.
· Enhanced experiences: Make the most of every viewing with 4K Ultra HD- and High Dynamic Range (HDR)-compatible content. Go behind the scenes of your favorite movies and TV shows with exclusive X-Ray access, powered by IMDb. Save it for later with select mobile downloads for offline viewing.
· Prime Video is just one of many shopping, savings, and entertainment benefits included with a Prime membership, along with fast, free shipping on millions of Prime-eligible items at Amazon.com, ultrafast grocery delivery and pickup, unlimited photo storage, exclusive deals and discounts, prescription savings, and access to ad-free music, books, and games. To sign up or start a 30-day free trial of Prime, visit: amazon.com/prime.
ABOUT MGM
Metro Goldwyn Mayer (MGM) is a leading entertainment company focused on the production and global distribution of film and television content across all platforms. The company owns one of the world's deepest libraries of premium film and television content as well as the premium pay television network MGM+, which is available throughout the U.S. via cable, satellite, telco and digital distributors. In addition, MGM has investments in numerous other television channels, digital platforms and interactive ventures and is producing premium short-form content for distribution. For more information, visit www.mgm.com.
ABOUT SIPUR
The first and only Israeli entertainment studio. Formerly known as Tadmor Entertainment, SIPUR is a rapidly evolving global television and film powerhouse focused on bringing high- end, premium scripted, unscripted, and documentary projects to the local and international market. Based in Israel, SIPUR (Hebrew for "story") aims to elevate local content to the global stage through strategic international partnerships, including a first-look deal with Amazon's MGM Studios. SIPUR's most recent projects include the docuseries The Devil's Confession: The Lost Eichmann Tapes (with MGM and Toluca Pictures) and Munich '72 (with Global Screen), as well as the reality dating show Hungry For Love (with Stampede Ventures).