[03/06/19 - 09:44 AM]
Video: Trailer Debut - "Someone Great" - Launching April 19
Gina Rodriguez, DeWanda Wise, Brittany Snow and Lakeith Stanfield star in the Netflix movie.
---
[via press release from Netflix]
Written and Directed by Jennifer Kaytin Robinson (Sweet/Vicious) Starring Gina Rodriguez, DeWanda Wise, Brittany Snow and Lakeith Stanfield
Launching globally on Netflix on April 19, 2019!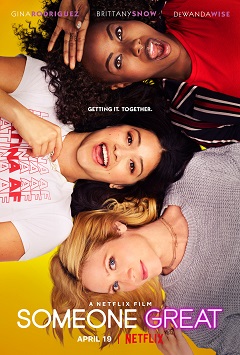 Aspiring music journalist Jenny (Gina Rodriguez) has just landed her dream job at an iconic magazine and is about to move to San Francisco. Rather than do long distance, her boyfriend of nine years (Lakeith Stanfield) decides to call it quits. To nurse her broken heart, Jenny gathers up her two best friends, Erin (DeWanda Wise) and Blair (Brittany Snow), for one outrageous last adventure in New York City. From writer/director Jennifer Kaytin Robinson (creator of MTV's Sweet/Vicious), SOMEONE GREAT is a hilarious and heartfelt story of friendship, love, and what it means to let go of your twenties and enter adulthood.



[10/15/19 - 09:17 AM]
Video: Arsenio Hall Standup Special Trailer - "Smart & Classy" - Netflix
The special drops Tuesday, October 29 on the streaming service.


[10/15/19 - 08:14 AM]
Video: It's Beginning to Look a Lot Like Netflix - Holidays 2019 - Netflix
Season two of "Nailed It! Holiday" and newcomer "Merry Happy Whatever" are among the offerings.


[10/14/19 - 09:13 AM]
Video: YouTube Debuts Official Trailer for New Learning Series That Tests the Magic of Cinema from "Back to the Future" to "Ghostbusters"
"Could You Survive The Movies," hosted by Jake Roper, debuts Monday, October 21.


[10/14/19 - 09:09 AM]
Video: "Little Miss Sumo" - Main Trailer - Netflix
Banned from competing professionally, female sumo wrestling champion Hiyori will have to retire at the age of 21.


[10/14/19 - 06:27 AM]
Video: "The Marvelous Mrs. Maisel" Season 3 Trailer Available Now
The trailer features the song "Perfectly Marvelous" from Cabaret with an original recording by Sutton Foster.


[10/14/19 - 01:28 AM]
Video: "The Man Without Gravity" - Official Trailer - Netflix
The film, directed by Marco Bonfanti, premieres Friday, November 1.


[10/11/19 - 08:47 AM]
Video: Netflix Launches Trailer for Spanish Thriller "Hache," The New Series Premiering Globally November 1st
The series tells the story of Helena (Adriana Ugarte), a prostitute who starts as a simple pawn in the hands of Malpica (Javier Rey), the head of a gangster band that operates in Barcelona in the 1960s.


[10/11/19 - 07:38 AM]
Video: "A 3 Minute Hug" - Trailer - Netflix
Look for the documentary to drop Monday, October 28 on the streaming service.


[10/10/19 - 12:28 PM]
Video: YouTube Debuts Official Trailer and Announces Inaugural Authors for New "BookTube" Learning Series
A new episode will air the third Thursday of each month.


[10/10/19 - 11:30 AM]
Video: AMC and SundanceTV Release Haunting New Trailer for "The Preppy Murder: Death in Central Park"
The five-part series simulcast over three consecutive nights, Wednesday, November 13 - Friday, November 15, reexamines one of the most infamous crimes in recent American history - the 1986 killing of Jennifer Levin at the hands of Robert Chambers.


[10/10/19 - 09:01 AM]
Video: "Truth Be Told" - Official Trailer - Apple TV+
When new evidence compels podcaster Poppy Parnell (Octavia Spencer) to reopen the murder case that made her a national sensation, she comes face to face with Warren Cave (Aaron Paul), the man she may have mistakenly helped to put behind bars.


[10/10/19 - 08:31 AM]
Video: "Rattlesnake" - Official Trailer - Netflix
When a single mother (Carmen Ejogo) accepts the help of a mysterious woman after her daughter (Apollonia Pratt) is bitten by a rattlesnake, she finds herself making an unthinkable deal to repay her debt.


[10/10/19 - 07:37 AM]
Video: "Prank Encounters" - Official Trailer - Netflix
Hosted by Gaten Matarazzo, each episode of this terrifying and hilarious show takes two complete strangers on the surprise ride of a lifetime.


[10/10/19 - 07:01 AM]
Video: "Dancing with the Birds" - Official Trailer - Netflix
Narrated by Emmy Award-winner Stephen Fry, the film launches Wednesday, October 23.


[10/09/19 - 09:03 AM]
Video: Travel the World with David Chang - "Breakfast, Lunch & Dinner" Trailer - Netflix
In the series, David travels around the world with Seth Rogen, Chrissy Teigen, Lena Waithe and Kate McKinnon as they dive into different cultures, eat new food and share new experiences.