SHOWTIME(R) RELEASES THE OFFICIAL TRAILER AND KEY ART FOR "ACTION"
New Four-Part Docu-Series Exploring The Legalization Of Sports Gambling Premieres On Sunday, March 24 At 8 PM ET/PT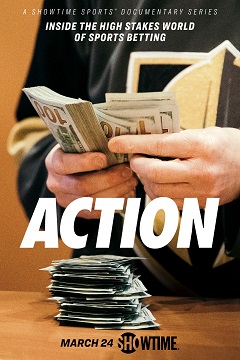 NEW YORK - March 15, 2019 - SHOWTIME has released the official key art and trailer for its new four-part docu-series ACTION, premiering on Sunday, March 24 at 8 p.m. ET/PT. Directed by Luke Korem, ACTION explores the legalization of sports gambling and its evolving impact on the industry following the landmark 2018 Supreme Court decision to lift a ban on sports betting. Peeling back the curtain on a once taboo industry during its most critical juncture, ACTION chronicles the lives of professional gamblers, bookies and oddsmakers throughout the 2018 NFL season, culminating with the biggest gambling day of the year, Super Bowl Sunday. The character-driven narrative delivers intimate access to a diverse cross-section of the sports gaming community and documents the effects of legalization through their prisms. To watch and share the official trailer for ACTION, go to:
An estimated $400-$500 billion is wagered annually on sports gambling in the United States. The central figures introduced in ACTION range from some of the most respected experts to influencers in the industry. Those profiled include professional gambler Bill "Krack" Krackomberger, professional handicapper Kelly Stewart aka "Kelly In Vegas" and polarizing sports betting consultant Dave "Vegas Dave" Oancea. ACTION also features Seattle Seahawks quarterback and Super Bowl Champion Russell Wilson, legendary bookmaker Jimmy Vaccaro, sports broadcasting icon Brent Musburger and comedian Cousin Sal.
ACTION is a presentation of SHOWTIME Sports Documentary Films. The series is directed and executive produced by Luke Korem (Dealt) and executive produced by Andrew Fried, Dane Lillegard and Jordan Wynn from Boardwalk Pictures (Chef's Table, Last Chance U). David Check serves as executive producer and showrunner. ACTION is a Boardwalk Pictures production, in association with Keep On Running Pictures.
ACTION is the latest in a series of culturally significant unscripted programming from SHOWTIME Sports. Additional titles in the lineup include DISGRACED, which won the 2018 Sports Emmy(R) Award for Best Documentary, the multi-part series SHUT UP AND DRIBBLE and BIPOLAR ROCK 'N' ROLLER.
Showtime Networks Inc. (SNI), a wholly owned subsidiary of CBS Corporation, owns and operates the premium television networks SHOWTIME(R), THE MOVIE CHANNEL(TM) and FLIX(R), and also offers SHOWTIME ON DEMAND(R), THE MOVIE CHANNEL(TM) ON DEMAND and FLIX ON DEMAND(R), and the network's authentication service SHOWTIME ANYTIME(R). Showtime Digital Inc., a wholly owned subsidiary of SNI, operates the stand-alone streaming service SHOWTIME(R). SHOWTIME is currently available to subscribers via cable, DBS, and telco providers, and as a stand-alone streaming service through Amazon, Apple(R), Google, LG Smart TVs, Oculus Go, Roku(R), Samsung Smart TVs and Xbox One. Consumers can also subscribe to SHOWTIME via Amazon's Prime Video Channels, DirecTV Now, FuboTV, Hulu, Sling TV, Sony PlayStation(TM) Vue, and YouTube TV. Viewers can also watch on computers at Showtime.com. SNI also manages Smithsonian Networks(TM), a joint venture between SNI and the Smithsonian Institution, which offers Smithsonian Channel(TM) and Smithsonian Channel Plus(TM). SNI markets and distributes sports and entertainment events for exhibition to subscribers on a pay-per-view basis through SHOWTIME PPV. For more information, go to www.SHO.com.